2006 Dub City '55 Checy set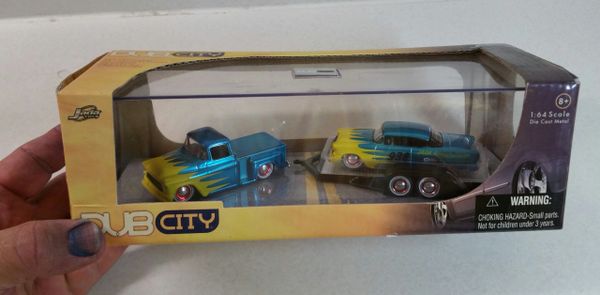 2006 Dub City '55 Checy set
N.O.S. from 2006
Dub City Set

1955 Chevy Stepside pulling a Chopped Top Bonniville style 1955 Chevy Bel-Air race car on a Bad Ass car trailer.
Long out of production & circulation. This is a super detailed set of 'Lil 1/64 scale cars.
Those who know me personally, know first hand that I'm a "Horder" .... lol .... although I'd rather say "Collector"

~ I only have just this ONE set of these ~

so if 'ya want it, you better GET IT.
Check back with us regularly 'cause we will always be posting more Unique & Rare items as we get the chance.

***
International Orders ~ Please contact us Direct ~ for a shipping quote on all items / orders, so we can send you the proper payment amount by email invoice.