Ground Metal Candy Green - Lettering Brush box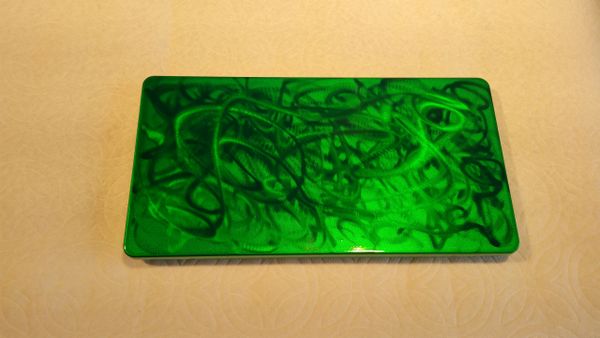 Ground Metal Candy Green - Lettering Brush box
 # # #  International Customers ~ NOTICE  # # #  
Please email us directly at:  vondago@yahoo.com  
~  
For a shipping cost quote on # ALL ITEMS # so we can send you the proper payment amount by Personal Email Invoice.
Free shipping is for the United States ONLY ! ! !
  Each one is Uniquely different
       ~ Ground Metal ~

           Candy Green

Lettering Quill & Pinstriping Brush Box

* * Seamless & Leak Proof * * 
Heavy duty Metal, yet Lightweight & durable to hold your, Lettering Quills, Out Liners, Scrolling ~ and or ~ Pinstriping brushes.
They are 1/2 the thickness of the retainer spring boxes, but also accommodate more than just Lettering brushes as you can see.  
A big plus about these is they are ~
 * Leak Proof *
It don't have seems 'n holes like the spring equipped ones do, and thus don't leak any brush oil

I've always hated those spring ones, because they leaked so bad and they don't hold very many brushes.
Approx. Measurements are:
9" L   x   5" W   x  1/2" D

I get asked about what I do about keeping the brushes in place?
( Photos shown are merely examples )
There are several different methods to hold the brushes in place & some are:
* Piece of scrap Foam or Wood dowel with notches for the brushes
* Use Plumbers putty
* Piece of Weather stripping
* Be creative ~ it's not Rocket Science   :-)
* I will include a few items you can possibly use to hold your brushes in place.