*Kick Start * 16 Ounce Super value Bottle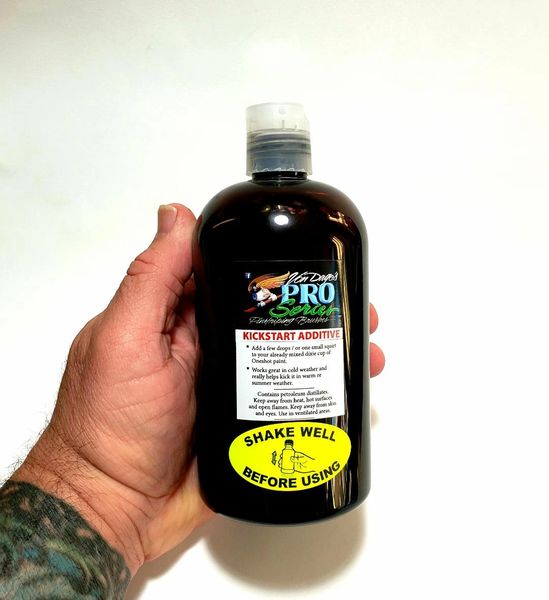 *Kick Start * 16 Ounce Super value Bottle
###  NO international sales of this item  ###
Big 16 oz. bottle
Speeds & Shortens the drying time of  1 Shot  Pinstriping & Lettering paint.

* Add a few Drops or Squirts to your 'Lil cup of 1 Shot  and You'll get the hang of it, in no time.
This really gives it a Kick in the Ass of drying speed   
..... PLUS ...... 
if you use it with 1 Shots #4007 hardener ~ you'll be extremely surprised!!!! 
* Try using ""just this"" ( No other Thinner ) ~ and you will be AMAZED
* Works Grrrreat in the "Winter" weather & Really Kicks it in the Summer.

* Makes Clearing over 1 Shot a piece of cake! ! ! 
* I personally guaranty you 100% ~ that I use ~ what I endorse, recommend & sell.
Proudly Made in the USA by Meeeeeeee
***
NOTICE 
***
When checking out with *THIS* and other multiple items ~ 
The Shipping system might hit you with a ridiculous high shipping cost.
.....DON'T FRET or PANIC......
Once we pack & select the proper shipping service, we ""always - always"" issue a REFUND back to your payment method!
WE are Pinstripers for Pinstripers & not out to rip anyone off, or make profits from mere shipping costs.!