Lettering Quill "Seemless" Metal Brush Box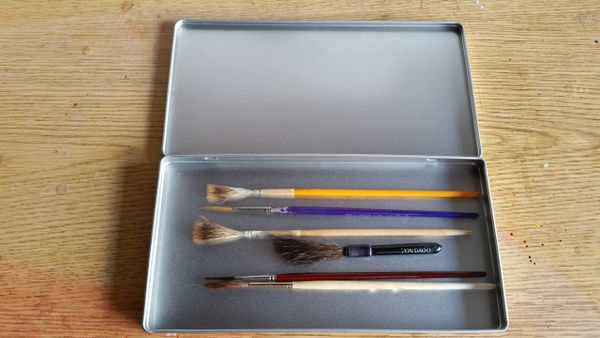 Lettering Quill "Seemless" Metal Brush Box
~ is for the  ~  UNITED STATES ONLY 

! ! !
Lettering Quill Brush Box
*
Seamless & Leak Proof
*

Heavy duty & durable, yet Lightweight Metal box to hold your Lettering Quills, Out Liners, Scrolling and or Pinstriping brushes.

They are 1/2 the thickness of the retainer spring boxes, but also accommodate more than just Lettering brushes as you can see. 
Another big plus about these is they are
~
*
Leak Proof
*
It don't have seems 'n holes like the spring equipped ones do,
and thus don't leak any brush oil ..... I always hated those spring ones, because they leaked so bad and they don't hold very many brushes.
Approx. Measurements are:


9"

L   x  

5"

W   x 

1/2"

D
I get asked about what I do about keeping the brushes in place?
(
Photos shown are merely examples
)
There are several different methods to hold the brushes in place. 
*
Piece of scrap Foam or Wood dowel with notches for the brushes
*
Use Plumbers putty
*
Piece of Weather stripping
*
Be creative ~ it's not Rocket Science  
*

I will

include

a few items you can possibly use to hold your brushes in place.
# # #  
International Orders
 ~ 
NOTICE  
 # # #
Please contact us Direct:  vondago@yahoo.com  ~  
for a 

shipping COST price

 quote on #

*

 ALL items

 

*

#

 so we can send you the proper payment Amount via Personal Email Invoice
~ is for the  ~  UNITED STATES ONLY 

! ! !