MACK-DAGO Saber Liner 2/0 (00) - Out Lining Lettering brush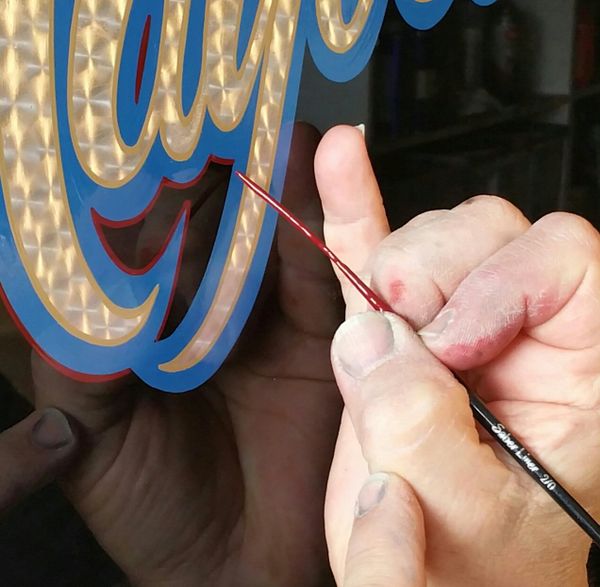 MACK-DAGO Saber Liner 2/0 (00) - Out Lining Lettering brush
# # # INTERNATIONAL CUSTOMERS # # #
Please contact us Direct: vondago@yahoo.com
~
For a shipping COST price quote on ****All Items**** so we can send you the proper payment amount via Personal Email Invoice.
FREE shipping is for the United States ONLY

Saber Liner # 2/0 (double 00)

Out Liner - Lettering Brush

From pulling long Out Lines on hand painted letters 'n numbers ~ to preforming a smooth Scripted name ~ you can do MORE with them, other than outline a letter, as the photos show.
These New specially designed brushes can handle what ever skill level you have.
Including some light 'n tight

"

Pinstripe / Scrolling Designs

"

with the smaller sizes of the 4/0 & 2/0 for those that can Stripe.


Designed for the Master Professional, yet extremely beginner user friendly!

Works great with Oil based 1 Shot Enamel or Urethanes.

Specially made & imported Soft **Synthetic** hair ~ which still has some "Snap" of course ~ But continues to keep getting a bit Softer 'n Softer as they get Used 'n Oiled, Used 'n Oiled, Etc. ~ and they preform like the closest thing to Real Hair as I've ever seen!!!

Professionals:
Jack Lindenberger, Tim Hulsey, Zach Mathews & many others all say:
* This New Brush & Hair is Fantastic *

Chrome Ferrule
Beautiful Black multi colored "mini flake" handle

Automotive Urethane Clear Coated Handle


And you are automatically enrolled in our
Customer Loyalty Program
* *
Buy "any" 10 brushes - Get
1
FREE
* *