Night at the Races - 1999 Hot Wheel set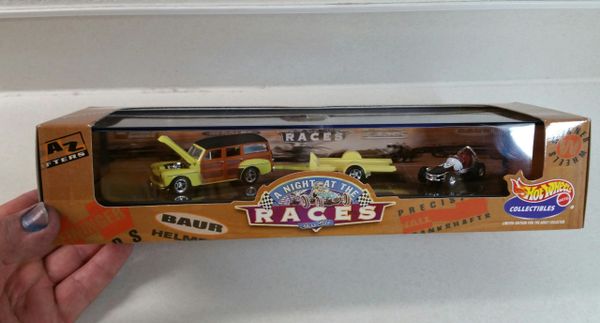 Night at the Races - 1999 Hot Wheel set
N.O.S. from 1999

*Night at the Races*

Hot Wheel Set

Long out of production & circulation. This is a cool set of three 1/64th scale vehiles.
* 1946 - 48 Ford "Woody" station wagon

* 'Lil Ford V 60 "1/4 Midget" Race Car

* Custom Car "Trailer"

~ This is the ONLY set we have ~

so get it while it's HOT
Check back with us regularly 'cause we will always be posting more Unique & Rare items as we get the chance.

***
International Orders ~ Please contact us Direct ~ for a shipping quote on all items / orders, so we can send you the proper payment amount by email invoice.