# 000 (3-0) Pro-Series Premium Pinstriping brush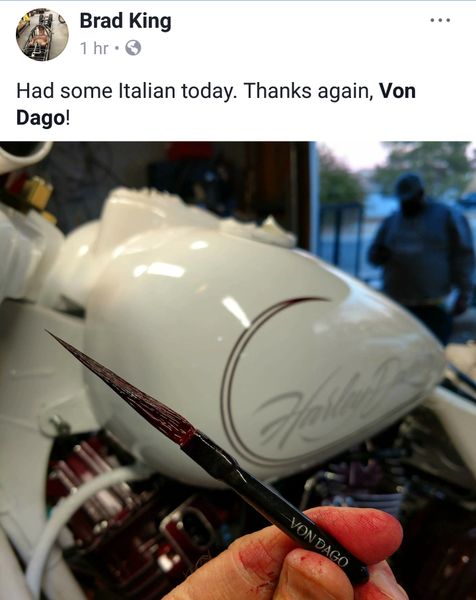 # 000 (3-0) Pro-Series Premium Pinstriping brush
Free shipping is for the 
United States ONLY
Free shipping is for the 
United States ONLY
Free shipping is for the 
United States ONLY
Proudly
Hand Made in the USA

 

 - One at a time 
of the finest Imported European:
Pure Natural Blue Squirrel Hair
 ~ 
This Premium brush is designed for both professional & beginner use. 
The overall volume hair count & M.M. size, makes it 
extremely user friendly
.
*
NO
 - Pre-Wash needed
*
NO
 - Major Trimming needed
*
NO
 - Shedding
* 
NO
 - Ferrule Leakage
*
LASTS
 - 4 times longer
than 
the average brush 
!
Plus....
They are totally ready to use right outta the shipping tube!!!!
These awesomely smooth flowing Pro-Series brushes are now considered 
""
Top of the Line
"" 
 - affordably priced - and have been
VERY VERY well reviewed
by the newest generation of pinstripers & especially seasoned Old Pros, who 
KNOW
 a good brush
when they use one 
!

Like **Ryan Evans**, head painter on the History Channels hit T.V. Show **Counting Cars** at the famous **Counts Customs** in Las Vegas.
~AND~
World rennown **DISNEY** artist / pinstriper **Craig Fraser**
And you are automatically enrolled in our
           Customer Loyalty Program
* * 
Buy ANY 10 brushes - Get 
1
 FREE
* 
*
Free shipping is for the 
United States ONLY
Free shipping is for the 
United States ONLY
Free shipping is for the 
United States ONLY