Beginner Pinstriping & Scrolling *Basic Starter Kit*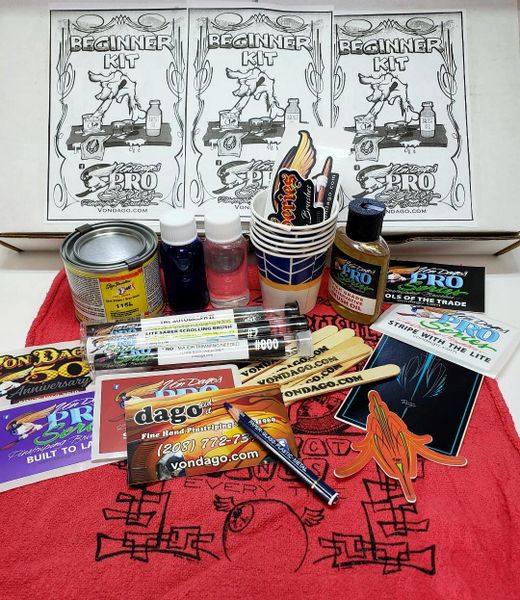 Beginner Pinstriping & Scrolling *Basic Starter Kit*
Free shipping is for the United States ONLY
""Noooo"" International Sales of THIS Product! ! !
Free shipping is for the United States ONLY
 ***Basis Beginners Starter Kit***
""All you need to get Started""

Available in "Right -or- Left" handed versions
No need to shop at 5 different stores & wait weeks for delivery ~ it's all right here for you!
Here's what you'll get:

* Three Brushes consisting of:
* Pinstriping Sword brush
* Standard Scrolling brush
* Signature Detail brush

* Can of Oil base paint ~ 
 (Color or brand will vary from kit to kit) 
* 6 Mixing Cups 
* 6 Mixing Stir Sticks
* 6 Pallette Cards

* Bottle of Reducer 
* Bottle of Brush Cleaner 
* Premium "Animal Fat" Brush Preservative 

* Stabilo guide marking pencil
* Pro Series Shop Rag 
* Basic Tip sheet 
* 10 Von Dago Pro Series Sticker Swag items
* Other various bonus surprise goodies

Pleasezzzz Note:
This is NOT  a "Learn How to" pinstripe item ~ But merely a basic starter kit to have fun 'n play with paint & brushes within 10 minutes of opening the box!