32 oz Brush Preservative ~ "Natural Animal Fat Oil"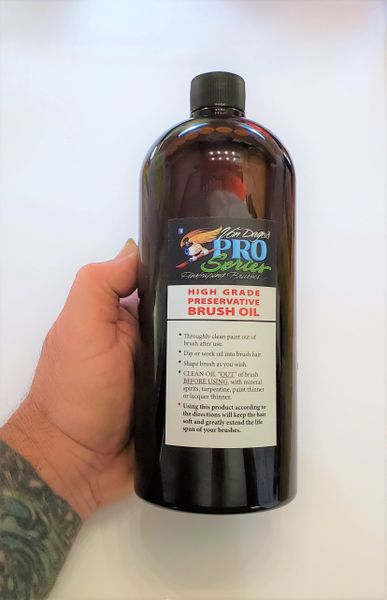 32 oz Brush Preservative ~ "Natural Animal Fat Oil"
Listed Shipping  cost is for the United States ONLY

Huge 32 Ounce
Brush Oil
Natural Animal Fat Based product 
This has been specifically manufactured for Artists, to keep brushes soft, fresh, like new & most importantly of all ~ it greatly Extends the overall Longevity & Lifespan of your Natural Animal Haired brushes!!!

* Pure common sense is this:
Transmission fluid & Motor Oil have....

* Metal Cleaning Chemicals & Detergents *  in them to help clean the CARBON off metal parts!!!!!!!
Since when, does anyone have a need for  * Carbon Cleaning Chemicals *  to keep the Natural Animal Hair in brushes soft & fresh ?   ( or even Synthetic hair )

*Same with : 

Baby Oil , Mineral Oil , Saddle Oil ...and... Oh my God ~ 3 in 1 oil

Using those products are left over Fables & Myths from the great depression of 1929

Yes those are cheap, but for  *what brushes cost*, do you Really Really want to cheap out, and actually shorten their lifespan Merely ""Thinking"" you're preserving them ?

* Pleasezzzzz

Just because it's Oily, doesn't mean it will PRESERVE & NOURISH the HAIR in artist brushes! 
Just because people say they've been using "something" for years ~ doesn't mean it PRESERVES & NOURISHES the Hair in brushes!!!!

* And reverse it ~ 
By that STUPID  thinking, we should simply put Brush Oil, Baby Oil, Mineral Oil or even 3 in 1 Oil in our Car. Truck, Motorcycle or even Lawn Mowers engines then! ! !
Will those work ?
What the hell - no big deal right - it's jusssst OIL  ?  
* The Key Question is ~  
will the motors ** Preform ** as they were intended to do ???
Annnnd most importantly ~ HOW LONG will the Motors Last ???
Jussst Sayin'
*Keep in mind the Original Host of the hair in brushes was an ANIMAL ~ Not a 350 Chevy ! 
Proudly made in the USA
*** NOTICE *** 
When checking out with *THIS* and other multiple items ~ 
The Shipping system might hit you with a ridiculous high shipping cost.
.....DON'T FRET or PANIC......
Once we pack & select the proper shipping service, we ""always - always"" issue a REFUND back to your payment method!
WE are Pinstripers for Pinstripers & not out to rip anyone off, or make profits from mere shipping costs.!